Spain
---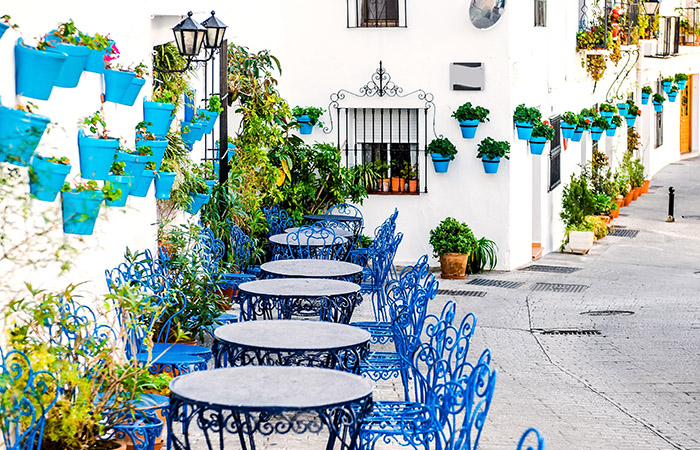 No matter how many times you visit Spain there's always a reason to return to this Mediterranean masterpiece. From the shores of the Costas to the rugged interior, and north to its borders with France, Spain has plenty to delight visitors.

The capital Madrid, and stand out cities like Barcelona may have all the notoriety, but Andalusia is the passionate, beating heart of Spain. Marbella in Andalusia's Costa del Sol in southern Spain faces the Mediterranean Sea, and has a coastline that stretches over 26 kilometres of brilliant beaches revelling in glorious sunshine for most of the year.

The atmospheric streets of the old town have at their heart Plaza de los Naranjos, a colourful square lined with tropical plants and orange trees. Both during the day and the warm, sultry nights it's a hub of activity with lively bars and bistros, small shops and art galleries.

For a day away from the coast, the town of Mijas offers a quaint take on Spanish life with donkeys drawing carriages around its picturesque streets. Ronda and Antequera, both around an hour's drive from Malaga, are elegant cities dominated by proud history and culture.

To gaze upon birds dipping and swooping over Ronda's gorge from the bridge spanning the deep canyon below is worth the journey alone, but there's more to discover in the town's fascinating buildings.

Antequera is so steeped in history that it has Megalithic sites amid plains once roamed by Spain's most famous heroes and bandits.

If you seek more adrenaline fuelled excitement, the Costa del Sol, from Estepona through Benalmádena, Fuengirola and Nerja, has 4x4 Jeep safaris, quad biking, para triking, caving and canyoning within an easy drive.

Málaga is the cultural centrepiece of the Costa del Sol. It's the birthplace of artist Pablo Picasso, and its locally produced sweet wine is served from giant kegs accompanied by tasty tapas and the sound of heels clicking a flamenco beat.

One of the world's oldest cities, dating back to the 8th century BC, Málaga's historic heart has Moorish buildings while the basement of the Picasso museum houses the city's oldest remains, the walls of the former Phoenician city.

Spain's east coast revels in the Costa Blanca where Alicante and Benidorm are among its best loved resorts. Alicante has graceful churches, a wonderful harbour and miles of wide sandy beaches. Benidorm has grown up from the young, party town of the east coast to become one of the coolest destinations in the Costa Blanca. Its blue flag beaches, shops, entertainment venues and restaurants make it ideal for families.

Elsewhere in the Costa Blanca towns like Dénia, Xàbia, Altea and Calpe are complete with winding cobblestone streets, white washed buildings and charming churches, and the azure tones of the sea are rarely far away. Las Salinas in Calpe is a favourite with birdwatchers who gaze at wading flamingos and a huge array of other bird species.

Further north, Tarragona in the Costa Dorada lies just 96 kilometres south of Barcelona. Whether you seek sun, sea and sand or a glimpse into the rich tapestry of Spain's Roman influences, the region is a revelation. Here Roman ruins including an amphitheatre, archaeological complexes and museums, pepper the countryside, while nearby Poblet is home to an impressive Cistercian monastery.

While nature lovers will enjoy Tarragona's parks and gardens, the whole family will be thrilled by Spain's largest theme park, Port Aventura, in nearby Salou.