Planning a road trip with your family can be a tricky ordeal, especially if you're managing little ones that can hardly sit still for five minutes, let alone five hours! Preparation is key, and so is finding creative ways to keep your kids occupied as the miles go by. From staving off boredom to curing the munchies, consider these helpful road trip essentials for kids to make the journey from point A to point B more fun for them and stress-free for you. And if you need a little inspiration on where to go, check out five of the most scenic road trips.
1. A Tablet For Multi-Media
Time either flies or drags when driving to your destination. Why not pass the hours with a tablet? Have your device loaded with games, TV shows, music and movies so your kids can quietly tune out — and keep the dreaded question, "Are we there yet?" off their radar.
2. Noise Canceling Headphones Or Ear Buds
When on the road with a family of three or more, there's a good chance you'll have different preferences when it comes to media. Equip your family with a pair of headphones or ear buds so each respective member can indulge in their own past-time, like catching up on their favorite podcasts, audiobooks, music social media content.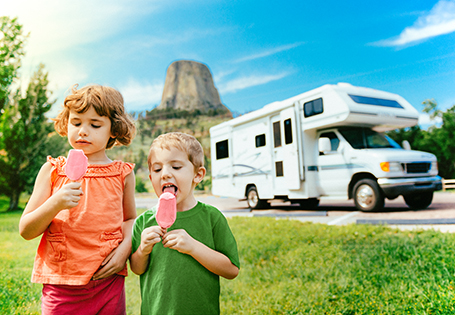 3. Soft, Puffy Blanket Or Weighted Blanket
Some enjoy the blast of the AC, but for those who might get cold easily, a soft, cozy blanket can make a world of a difference. And for those who might experience anxiety while being on the road, weighted blankets add an extra layer of warmth and feel like a loving hug that creates a calming, sleep-inducing effect. Pro tip: look for blankets that feature water and stain-resistant material.
4. Soft-Shell Or Nylon Cooler
You never know when hunger will strike, and a hangry batch of kids or teens confined in a small space? Yikes! Pack your favorite snacks and drinks in a well-insulated cooler, and make sure to include plenty of options if your family is full of picky eaters. Check out soft-shell coolers that are sweat-proof, leak-proof, and keep ice frozen for 24 hours if you've got a lot of miles to cover.
5. Window Sun Shades
To keep the harsh sun out of your child's face, opt for fabric shades that can be easily applied right onto your car's window.
6. 3D Puzzle
If your child keeps busy by using their hands, surprise them with a dinosaur, airplane, or car 3D puzzle right before the trip. Many 3D puzzles come in sheets with pieces that easily pop out. Just put the pieces in a container and let them get to creating as soon as you hit the road. Some puzzles also come with paint sets, and you can promise that they can paint their masterpiece as soon as you get to your destination.
7. Sanitation Station
On longer trips, spills and messes can be inevitable. Plus keeping your car's space sanitary will help keep the germs at bay — nothing's worse than a cold or sniffles at the beginning of a family vacation. Keep antibacterial wipes on hand to wipe down gas pumps and surfaces as well as gel hand-sanitizer and pocket sanitizers that use UV beams to disinfect your phone, keys, and toys in seconds.
NOTE: Information may have changed since publication. Please confirm key details before planning your trip.