Hilton Head Island is the perfect destination for family get-togethers, romantic getaways, and solo relaxation. With 12 miles of incredible beaches, the ocean breeze and sunshine are exactly what is needed for the ultimate vacation. You can plan to relax and unwind all year long since the weather is just right. But if you're looking for the absolute best time to visit Hilton Head, read on for the ideal months.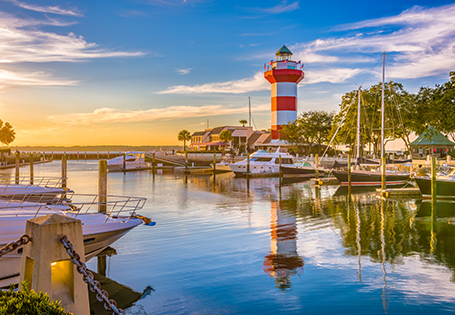 When you visit Hilton Head during the off season in April and May, as well as September and October, you'll also see fewer crowds when the weather cools off to 60 to 70 degrees Fahrenheit. With less crowds, pristine beaches, oyster season, and holiday events, you're in for an amazing vacation. Plus, oysters make for the perfect addition to any Lowcountry boil and you'll get the chance to experience one while you're there.
Best Time To Visit Hilton Head: Spring
If you're looking for the best time to go to Hilton Head, April and May are great times as it's right before the chaos and heat of summer. Temperatures are definitely still warm and the ocean waters reach ideal swimming warmth. With low temperatures reaching 50 degrees Fahrenheit in the evening, you'll get the best of both worlds with 70s during the day and sweater weather at night. You may have to pack a little more to include both jackets and swimsuits, but the benefits will surely outweigh the extra luggage.
If you're a golfer, the RBC Heritage Presented by Boeing happens every April and you will definitely want to be present. The tournament is held at the Harbour Town Golf Links within the Sea Pines Resort. Not only will you be part of the action during the tournament, but the amazing weather and relaxing atmosphere will make your vacation one for the books. Speaking of golf, Hilton Head has more than 20 championship courses so you can work on your swing.
In May you can experience the unbelievable sight of sea turtles venturing out of their secluded nests and into the ocean. This once-in-a-lifetime experience will leave you breathless and give you a whole new perspective of the creatures that call Hilton Head home.
Visit the Featured Destinations page to explore additional RCI vacation spots.
Best Time To Visit Hilton Head: Fall
For some, the best time of year to visit Hilton Head is the fall. Although Hilton Head is located in the center of the East Coast, you won't find a traditional fall here like you'll see a little farther north. The leaves stay the same color all year long and daytime temperatures can sometimes be warmer than expected. Luckily the ocean waters continue to keep the warm temperatures in September and October, making it a great time to plan your beach trip if you plan on swimming, snorkeling, surfing, or exploring the ocean.
If you're looking for local festivals, enjoy all the American classics at the annual Burgers and Brews Fest, where local restaurants prepare savory bites and offer regional brews to pair with your barbecue, chicken, pork, turkey, or shrimp. Or the Italian Heritage Festival is tons of fun with live entertainment, a grape stomping competition, a pizza making competition, and lots of food.
While fall is a great time to experience the island, there is a chance a hurricane or tropical storm could impact the area. Hurricane season starts June 1 and ends Nov. 30, while peak season is mid-August to mid-October. You can totally still travel to Hilton Head during hurricane season, just know that there is a chance a storm could impact your vacation. If you do find yourself in Hilton Head during a hurricane, follow procedures from South Carolina Emergency Management and your RCI resort officials.
Find additional travel inspiration by browsing RCI interests and activities.
Best Time To Visit Hilton Head: Winter
If you're looking for a very quiet vacation, winter is the best time to visit Hilton Head. Very few visitors travel to Hilton Head from November to March. The temperatures often reach daytime highs in the 70s, and drop down into the 50s at night. You can still pack a swimsuit and enjoy the sunshine on the beach, but the waters might reach low temperatures that make swimming not very relaxing. You can still grab a beach towel or lounger and soak up the rays.
While you're visiting during the winter, stop by the Hilton Head Oyster Festival and see what the hype is all about. You can choose from steamed local oysters, Lowcountry boil, pulled pork, or seafood chowder, all while listening to live music and enjoying great company. You can also check out the holiday lights and decorations around the island for the holiday season.
Start planning your next vacation to Hilton Head, and keep in mind the best months to visit are April, May, September, and October if you're looking for lower crowds and warm weather. Enjoy the ocean breeze, warming sunshine, and tranquil atmosphere while stopping by the annual local festivals. And no matter which month you decide on, always remember to pack your swimsuit and sweater!
Where To Stay:
With RCI you can exchange your timeshare at over 4,000 resorts, in more than 110 countries – including Hilton Head, South Carolina! Take advantage of your membership and use your timeshare to exchange for a Lowcountry getaway today.