Vancouver, British Columbia, is known the world over for its natural beauty. Surrounded by majestic mountains, verdant rainforests, and the sparkling blue waters of the Pacific Ocean, Vancouver is the third-largest city in Canada and is consistently ranked among the cleanest and most livable cities in the world.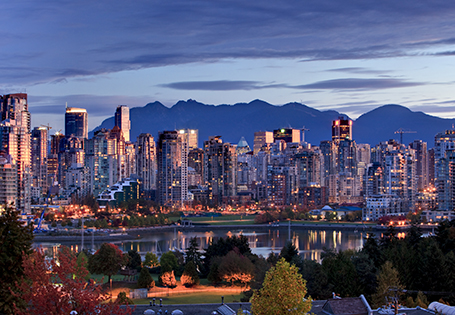 Established in 1867, the city's original name was Gastown — it was renamed Vancouver upon its incorporation in 1886. It's a coastal city with an average of 165 rainy days each year, earning it the nickname "Raincouver." Vancouver is full of fascinating things to see and do (not to mention eat!), and this three-day itinerary highlights some of the best things to do in Vancouver and the surrounding area. Make sure to pack an umbrella, just in case.
Day One: Stunning Stanley Park
Established in 1888, Stanley Park is more than 1,000 acres of green space that sits right next to Vancouver's downtown core. Considered the city's crown jewel, Stanley Park is one of the top Vancouver attractions and is beloved by locals and visitors alike.
Morning: You'll need to fuel up for your day of exploring, so swing by Nero Waffle Bar on your way to the park and enjoy a sit-down breakfast of their to-die-for Belgian waffles with your choice of sweet or savory toppings. When finished, make your way to one of the park's entrances and get ready to explore. Stanley Park is surrounded on three sides by water, and a pedestrian-friendly seawall runs the length of it. It's 5.5 miles round-trip around the park, and you can walk or bike (rentals available in the park) some or all of it. Or if you prefer to explore in vintage style, catch a one-hour tour in a horse-drawn carriage. Stanley Park Horse-Drawn Tours hits all the park's main attractions, including the rose garden, totem poles, art installations, and much more.
Afternoon: When hunger hits, make your way to the Stanley Park Pavilion and have lunch at Stanley's Bar & Grill — their local-catch seafood chowder or fish 'n chips will hit the spot, no doubt. From there it's just a short walk up the path to the Vancouver Aquarium, one of Stanley Park's main attractions. Once home to famed orca and beluga whales, in 2018 the aquarium made the humane decision to no longer keep large marine mammals in captivity, and it now focuses on marine mammal rescue, oceanic conservation, and public education. Home to more than 60,000 animals, from penguins and sea otters to jellyfish and even an octopus, you'll see more amazing aquatic species here than at any other aquarium in Canada.
Evening: As the afternoon fades into evening, make your way out of Stanley Park to the adjacent marina for one of the best things to do in Vancouver: a sunset dinner cruise around stunning Vancouver Harbor. There are several tour operators to choose from, each taking you to various points of interest around the harbor. Enjoy a four-course meal on a luxury vessel while enjoying live music and the amazing views of the city. See Stanley Park from a completely different vantage point, plus the mountains, beaches, and city skyline, all with a cocktail in hand and the setting sun in the foreground. It's a pleasant way to end a busy day.
Day Two: Side-By-Side Historic Districts
Vancouver's Gastown and Chinatown are adjoining sectors in the city's downtown core, both with an interesting history and unique sights to see. Gastown is old Vancouver (site of the original settlement) and its cobblestone streets are home to many historic sites plus a plethora of shops and restaurants. Next-door Chinatown is a Canadian national historic site, and is one of the oldest and largest Chinatowns in North America.
Morning: Start your Gastown visit off right with a visit to Nemesis Coffee for a fancy cuppa joe and a locally famous bite — try a "cruffin" (think croissant plus muffin) or something a little more filling like pork-belly benny or avo toast. Cuppa in hand, head out to explore the cool sights Gastown has to offer. The streets are full of interesting things to see, just make sure the Gastown Steam Clock is on your list. It's one of the only functioning steam-powered clocks in the world, and its chimes play the same tune as London's Big Ben. Overlooking the steam clock is the Vancouver Lookout, another one of the top Vancouver attractions. Ride the glass elevator more than 550 feet up for a 360-degree outlook of the city. The view is stunning, rain or shine. 
Afternoon: As you wrap up your time in Gastown, head south towards Chinatown and stop at Twisted Fork for lunch and fill your tummy with some delectable French bistro-style yummies. Then it's off to Chinatown to explore its amazing cultural sights. More than 140 years old, ancient meets modern in striking ways in this cultural nucleus inside the city. Peruse Chinese markets selling exotic produce and live seafood, admire authentic Chinese apothecary shops full of bottles and vials to heal everything that ails you, and walk through Dr. Sun Yat-Sen Classical Chinese Garden — a museum and urban oasis that'll transport you to the far east faster than you thought possible. Try to catch a public tea ceremony if you can.
Evening: No doubt you've worked up an appetite after a busy day exploring, and Bao Bei is the solution for your problem. A self-titled Chinese brasserie, Bao Bei prides itself on serving the highest quality food and on its modern approach to Chinese cooking. It's one of the most in-demand restaurants in the area (reservations recommended), and their dumplings are to die for. When you can't possibly eat another morsel, walk off your dinner in the glow of Chinatown's well-lit streets and then head over to The Keefer Bar for a libation or two. Keefer has been named one of the top three bars in Canada and currently ranks number 25 on the list of best bars in North America. It's a Chinese apothecary-themed cocktail bar, and custom drinks like Blood Moon, Dragonfly, and Skeleton's Kiss are on trend. 
Day Three: One Beach, One Island
East of Stanley Park and the downtown core you'll find Kitsilano and Granville Island, two adjacent sectors with lots to see and do. Both are laid-back, artsy, and scenic, and both will reward you with unique experiences you won't find elsewhere in Vancouver.
Morning: Your day will start in Kitsilano, and you'll need food. You can't go wrong with a comfort classic, and at Jam Cafe homestyle staples like chicken and waffles, buttermilk biscuits, or banana pancakes will start your Kits visit off on the right foot. When you're satiated (and you will be), migrate north to Kitsilano Beach for a morning walk along the sand. Kits Beach, as the locals call it, is sandy, calm, and clean, and the view of the mountains from the beach is second to none. When finished, stomp off the sand and make your way to the Museum of Vancouver, an award-winning civic history museum. Learn about the history of the area, its indigenous peoples, and the evolution of the city into the modern metropolis it is today.
Afternoon: Fuel up with lunch at Go Fish, a popular seafood shack overlooking False Creek and Granville Island that offers up the freshest fried fish imaginable. Then it's off to Granville Island for an afternoon of exploring some of the top Vancouver attractions. Head over to the Kits Maritime Museum Ferry Dock and catch the False Creek Ferry to Granville Island (a 15-minute float). Your first stop of the afternoon will be the Granville Island Public Market, an indoor market full of stalls and vendors selling fresh seasonal produce, delicious baked goods, handcrafted products, and much more. You can wander for hours and not run out of things to see (and taste), or you can catch a guided market tour — which includes wine tasting. When you're done at the market, there are plenty of local indie shops and art galleries worth exploring.   
Evening: When your stomach starts growling, drift over to the Granville Island Brewery for dinner and a craft beer or two. Try a burger, wings, or poutine (when in Rome!), and wash it down with a pint of their Granville Island Lager — a taproom staple since 1984. Make sure to take a tour of the brewery while you're there and find out just how their beer-making process works. Then head back out and enjoy an evening walking around the island, making sure to watch for street performers (Granville Island is full of them) before heading back to the ferry dock to catch the boat ride back.
Visit the Featured Destinations page to explore additional RCI vacation spots.
Additional Points Of Interest
If you find yourself with extra time and are looking for more things to do in Vancouver, check out one of these bonus experiences in and around the city.
Find additional travel inspiration by browsing RCI interests and activities.
Where To Stay:
RCI is more than exchange, it's a global travel network covering all your vacation needs from end to end. Enjoy up to 60% off 6000,000+ hotels around the world, get deals from all major car rental companies, and take advantage of 345,000+ activities, tours, excursions, shows, and more.
When planning your next Vancouver vacation, RCI has you covered. Get started and learn more about your travel benefits today.