Colorado practically invented the idyllic mountain community, rife with fresh-faced, sporty types and stunning alpine scenery. There are a half-dozen or so high-altitude zip codes that fit the mold—Telluride, Aspen, Steamboat, Crested Butte—but none as convincingly as Durango. Set at 6,500 feet in a river valley between the jagged San Juan and La Plata mountains in the southwestern corner of the state, this town of 16,000 has a sunnier, milder clime than its northern neighbors. And thanks to the 4,000 Fort Lewis College students, it's as lively as a city twice its size.
The attraction is easy to see: Durango's world-class mountain-biking trails are magnets for some of the sport's top athletes and amateurs. You can float, fish or swim the Animas River, which flows right through town; scramble the tiered mesas that rise just blocks from Main Avenue; or hop the Durango-Silverton narrow-gauge railroad and head north into the San Juan high country. An hour to the west, the sandstone cliffs of Mesa Verde shelter some of the country's oldest and best-preserved Anasazi cliff dwellings, dating back more than 800 years.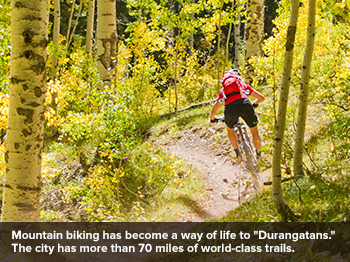 But the biggest draw by far is the locals. And after a weekend spent soaking up the contagious "Durangatan" (as locals sometimes call themselves) cheer, you'll feel a little like a local yourself.
RIDE LIKE A DURANGATAN
When the nonprofit Trails 2000 group began building and maintaining backcountry trails outside town in 1989, it helped put Durango on the map as a mecca for the booming new sport of mountain biking. Today, cycling is Durango's dominant culture, with 70 miles of world-class single-track right out the back door, a critical mass of resident pros and what's said to be more bikes per capita than any other community in the country.
So what's the best way to sample Durango's bicycle bounty? A good place to start is Hassle Free Sports, where you can rent a full-suspension mountain bike. Then, for your first ride, longtime resident and former world champion Ned Overend recommends stretching your legs—and your lungs—at Horse Gulch, part of a 30-mile trail network in the high-desert scrub on the mesa just east of downtown.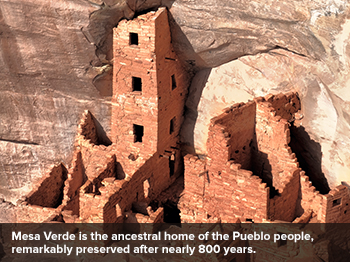 You could bike all weekend without losing sight of downtown, but then you'd miss Durango's signature ride: Hermosa Creek Trail, a fast and famous epic that starts at the Durango Mountain Resort ski hill and descends 20 miles along Hermosa Creek, traversing rocky ledges, ponderosa forest, open meadows and numerous creeks.
Back in town, unwind with an easy spin along the Animas River Trail, a paved bike-and-walk path that winds 5 miles along the river. Afterward, stay on your saddle and cruise Main Avenue for dinner and drinks like the locals do.
WATERWORKS
The Animas, Piedra, Vallecito and Los Pinos rivers begin as snowmelt in the San Juan high country, and by the time they rush into the valleys of southwest Colorado they've widened into the region's biggest free-flowing waterways—a liquid playground for Durango locals. In mid-summer, the Animas runs clear and brisk, making it the perfect place to cool down after a day of adventuring. Take the plunge in the deep, sandy swimming hole behind Durango High School, or reserve a spot on an organized raft trip. Higher up, near Silverton, the Animas is a raging, thrill-a-minute Class V torrent, but by the time it hits Durango it has mellowed into a relaxing float.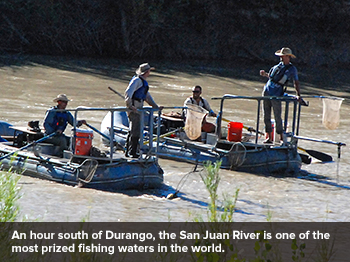 These waters also offer incomparable fly-fishing. Anglers wade for brown and rainbow trout all year long in the Animas (it gets really good after runoff ends, in July). An hour south of Durango, the blue-ribbon San Juan River (just below Navajo Dam in New Mexico) has earned a reputation as one of the most prized fishing waters in the world. The trout are so plentiful that you'll be catching and releasing almost as much as you're casting.
MESA VERDE
Now it's time for headier pursuits: contemplating how a culture of Native Americans built elaborate cliff dwellings on an imposing mesa 800 years ago—and why they inexplicably left. Thirty-five miles west of Durango, Mesa Verde rises like a ship's prow, snub-nosed and blocky. From A.D. 600 to 1300 it was home to the Ancestral Pueblo people. Stand on the canyon rim and peer down at Spruce Tree House, the best preserved of Mesa Verde's dwellings, with 90% of its sandstone structure still intact, and try to imagine it as it was a thousand years ago.
For a closer look, wander among the ruins, tucked into a natural amphitheater in the cliff face that's shady and cool even at midday. The Ancestral Puebloans used those flat-bottom rocks, called mano, and the smooth stone trays, or metate, to grind the corn they farmed on the mesa tops. Wriggle down a narrow ladder into a damp, cool ceremonial kiva and scan the mortared walls for 700-year-old thumbprints. A 3-mile-loop hike on the Petroglyph Point Trail, overlooking Spruce and Navajo canyons, leads through strikingly sparse juniper and pinon forest, still charred from the massive 2002 fires. At the far end you'll arrive at a panel of ancient rock art—a reminder, not that you need one, that this corner of Colorado holds timeless appeal.
NOTE: Information may have changed since publication. Please confirm key details before planning your trip.